Kyiv, Ukraine.
05.10.2018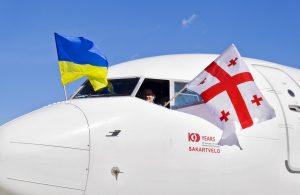 On Friday, October 5th, 2018 Boryspil Airport meet inauguration flight of new Georgian airlines "MyWay Airlines". Regular flights will be operated via the route Tbilisi – Kyiv – Tbilisi. 
Initially, MyWay Airlines will operate two scheduled flights a week, on Mondays and Fridays, on an aircraft Boeing 737-800. Starting October 24th, "MyWay Airlines" will add one more flight every wednesday. The arrival of another Georgian airline will allow ukrainian passengers to visit the capital of Georgia regulary, especially the old city, the Holy Trinity Cathedral, the Georgian National Opera and Ballet Theater of Tbilisi, sulfur baths and many other tourist destinations.
The airport is ready to provide the airline with the proper level of service and is already preparing for the celebration of the first flight. "We feel good about the fact that following summer intensive, the airport continues to work at a high pace. Especially in the development of business partnerships. The greeting of October "tandem" indicates that Boryspil Airport is becoming increasingly interesting for foreign air carriers and, what is more, for the visitors of Ukraine", – said Pavlo Ryabikin, General Director of the Airport.